Featured Businesses
→ Back to the Upgrades On Main Homepage
Every Friday, KC Water features a locally-owned business located on the Main Street corridor. Please support these businesses that are open during construction and share your experiences on social media by using the hashtag #FeaturedBusinessFriday!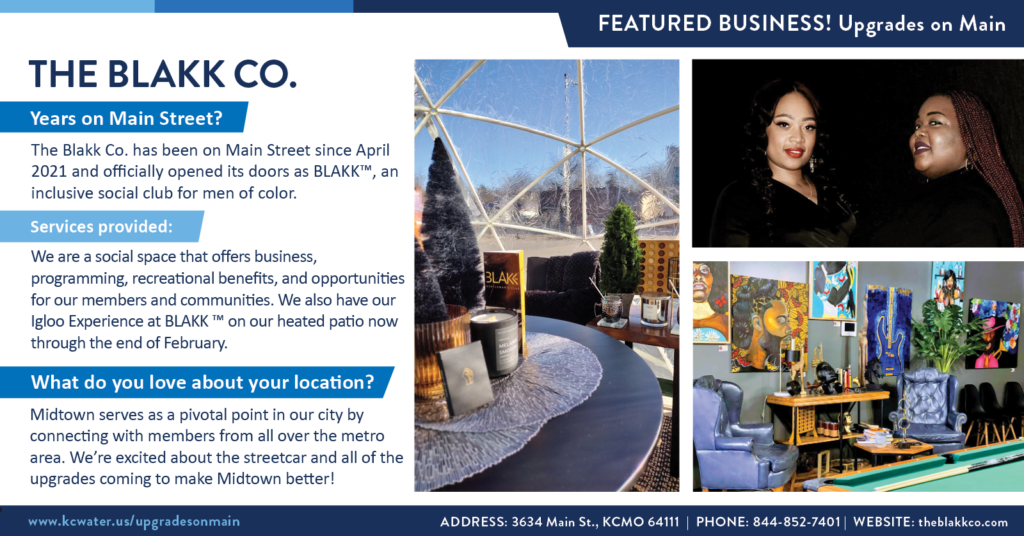 Conversation with The Blakk Co. / The Blakk Co on Facebook / The Blakk Co on Instagram
Years on Main Street?
The Blakk Co. has been on Main Street since April 2021 and officially opened it doors as BLAKK, an inclusive social club for men of color.
Services Provided?
We are a social space that offers business, programming, recreational benefits, and opportunities for our members and communities. We also have our Igloo Experience at Blakk on our heated patio now through the end of February.
What do you love about your location?
Midtown serves as a pivotal point in our city by connecting with members from all over the metro area. We're excited about the streetcar and all of the upgrades coming to make Midtown better!
PAST FEATURED BUSINESS FRIDAYS