Community Completion Event
→ Back to the Upgrades On Main Homepage
UPGRADED On Main: Community-Completion Event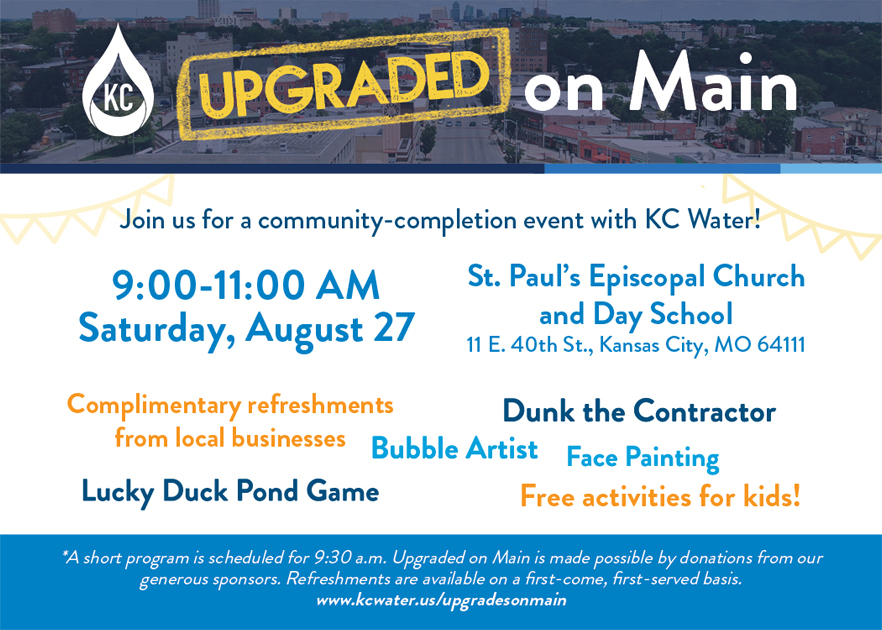 You're invited to a community-completion event with KC Water – Upgraded on Main!
Over the past two years, KC Water, in coordination with private-utility companies, has successfully made improvements to the aging water and sewer infrastructure underneath Main Street between Pershing Road and 51st Street. Join KC Water and the Upgrades on Main construction team to celebrate the substantial completion of KC Water, sewer, and private-utility work, and thank the community for their patience.
The Upgraded on Main event is scheduled for 9-11 a.m. on Saturday, August 27, in the parking lot of St. Paul's Episcopal Church and Day School. The event includes:
Family-friendly activities such as Dunk the Contractor, a bubble artist, face painting, games and more!
Complimentary refreshments from local vendors along the Main Street corridor.
A short program featuring elected officials, business and community leaders scheduled for 9:30 a.m.
This event is made possible by donations from generous sponsors. Refreshments are available on a first-come, first-served basis. Please check back for more details.
Mark your calendar for 9-11 a.m. on Saturday, August 27!  RSVP on Facebook.
Upgraded on Main Sponsors
Thank you to our generous sponsors for making this event possible!